December Meeting
The December meeting for the Toyohashi Chapter was
on Sunday, December 12, 2004
from1.30 PM to 4.00 PM.
Inter-City My Share Live: Nagoya and Toyohashi
Speakers: Anthony Robins (Aichi University of Education) in Toyohashi and Brian Cullen (Nagoya Institute of Technology) in Nagoya.
The use of a computer camera combined with chat software allows students to interact economically with visitors over the Internet. In this session, the JALT chapters of Nagoya and Toyohashi were linked together in an exciting practical demonstration of the possibilities of this technology. After the technology was explained, participants of both chapters engaged together in "My Share Live". Presenters and participants used computer cameras to share one of their own teaching ideas with participants in the other chapter.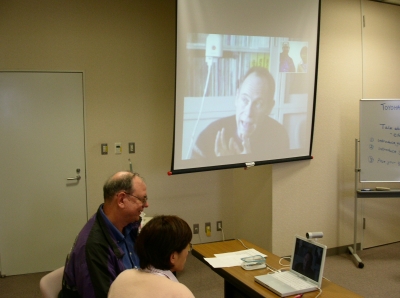 In contact on 12th December
The meeting was followed by the annual bonenkai (end of year party). See some pictures